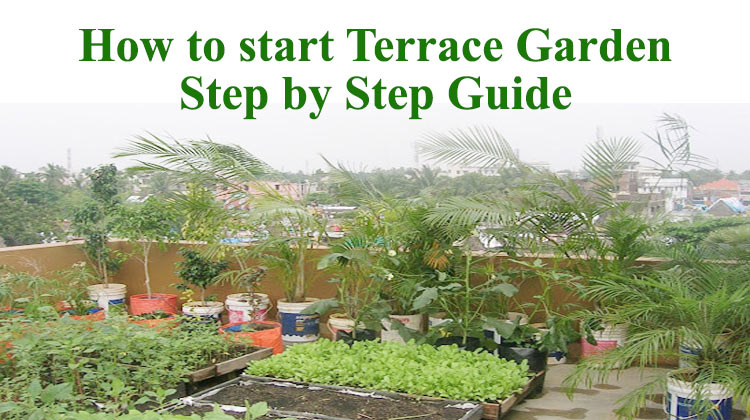 Many People want to create terrace garden at their home. But they hesitate to start for various reasons. Here we give you the step by step guide to start a Roof Top garden at your House.
Why they hesitate to start Terrace Garden ? The reasons are..
They don't know how to start terrace garden.
What are all the things required for starting a terrace garden?
How much does it cost to purchase the things for roof top garden?
What are the plants can be grown in terrace garden?
How much space required for making Garden at Roof top?
First you have to decide the purpose of setting up a terrace garden.
Just for a hobby
Interested in Gardening.
Want to grow and consume organic vegetables as far as possible.
Want to create nice ambience at roof top
All of the above.
The purpose of starting a Roof top gardening decides how much time and money you need to invest in this project. So, if your purpose is all of the above, then it will be a great experience for you, and you will enjoy every moment of the gardening. Based on your purpose the area of the Gardening can be decided.
Choosing the area for the terrace gardening.
First you don't try cover the full area of your terrace for gardening. Because apart from gardening there are other activities, the terrace of the home will be used such as drying clothes and other house hold items and to keep the gardening tools and materials. If you take full area of the terrace for gardening then it will be difficult for finding space for this usages. Hence you leave some space for these activities and set up gardening in the remaining area.
Stands for Keeping Grow bags and Plant Pots
First you need to make stand to keep the grow bags to grow the plants. Don't try to keep the Grow Bags or pots directly on the terrace floor. In the longer run it may lead to water stagnation in the leakage in the roof. Hence suitable stands according to the area of the terrace to be made using iron or package wood. Now people or making these stands using PVC Pipes in simple method. It is cost effective and durability is more than wood and iron stands
The images of Gardening stand is given below.
How to make gardening Stand using PVC pipes ? It is explained at some Youtube channels, search for other ideas.
Tools for Terrace Gardening
Then you need to purchase some tools which help for gardening work like Preparing soil and watering facility.
The above tools are available in Online also. You can purchase through online shopping
Preparing Soil for Rooftop gardening
You need Soil, Natural Manure and peats to prepare it for growing plants. You can Get some soil from nearby fields and natural manure, and combine it well with the cocopeats. Instead of natural manure you can add cow dung or goat dung manure to the mix. Stay those mix aside for a few days. Otherwise you can buy these from near by nursery or through Online. If you want to buy through Online Shopping first purchase minimum quantity of Vermipost, Cocopeat and Gardening Soil and mix it equally. The Soil is now ready.
Grow Bags for Gardening
Grow bags are available in different sizes and as per requirement we purchase these grow bags from near by Nurseries or Online Shopping. The shelf life of these grow bags are 5 to 7 years. Fill the soil mixture in these grow bags and now its ready for planting.
Selecting Plants for Terrace Gardening
Now comes the plants. What plants you want to grow and what is the process of planting seeds and saplings that you need to know.
For growing vegetables, you need to sow the seeds in well prepared soil according to the season, which helps that plants to give yields in correct time. The vegetables like Brinjal, Ladies finger, Chilly and Tomato etc are grown in all seasons and all weather conditions.The best time to start a terrace garden is in January and July. You can grow okra, tomatoes, cluster beans and all types of greens, among the faster growing varieties, which can be harvested from the fifth week or creepers like snake gourd, bitter gourd, flat beans etc. which take time to grow.
Flower plants for terrace garden
Flowers mainly Roses, Marigold, lavender and Jasmine etc can be grown at terrace garden. And other plants like Croton, Money Plant, Aloe Vera, Curry leaves etc also can be grown at home. All these plants are available at Online Shopping as well as near by nurseries. Bye these plants according to your liking and plant in the Grow bags and pour some water.
Now your Terrace garden is ready and Tips for How to maintain this is given below
Water the plants in the evening.
The labour of love requires daily watering and occasional spraying of pesticides
Periodically, every ten days, spray organic pesticide made from 50g neem cake soaked in 10 litres of water or turmeric powder mixed with ground neem leaves.
Remove weeds and prune the branches.
Use growth stimulants made from of coconut milk and buttermilk fermented for a week and then diluted before spraying. (Dilute 10ml of the mixture in one litre of water).